Translate this page into:

doi:
10.25259/IJMIO_13_2020
Why we should rely only on molecular tests based on Indian data
1
Group Oncology Director Academic

,

Shalby Cancer and Research Institute, Mumbai, Maharashtra

,

India
2
Department of Medical Oncology

,

Narayana Hospital, Gurugram, Haryana

,

India

*
Corresponding author: Purvish M. Parikh, Group Oncology Director Academic, Shalby Cancer and Research Institute, Mumbai, Maharashtra, India. purvish1@gmail.com
Received: , Accepted: ,
© 2020 Published by Scientific Scholar on behalf of International Journal of Molecular and Immuno Oncology
Licence
This is an open-access article distributed under the terms of the Creative Commons Attribution-Non Commercial-Share Alike 4.0 License, which allows others to remix, tweak, and build upon the work non-commercially, as long as the author is credited and the new creations are licensed under the identical terms.
How to cite this article: Parikh PM, Singh R. Why we should rely only on molecular tests based on Indian data. Int J Mol Immuno Oncol 2020;5(2):44-6.
Over the past 15 years, lung cancer has become the poster boy of personalized medicine, targeted therapy, and immuno-oncology.[1] Gefitinib initiated the transformation of how we treat lung cancer today, a great example of a drug that would have been lost in oblivion but for the effort to find out ethnic differences in molecular mutations.[2,3] Not only are there genetic differences between races (Caucasians vis-a-vis Asians), there is also heterogeneity within a single country like India.[4] Moreover, such variations have clinical implications in personalized treatment choices for optimizing patient management.[5] Figure 1 shows how such a systematic approach in sequencing therapy can lead to significant improvement in the survival of metastatic adenocarcinoma of the lung.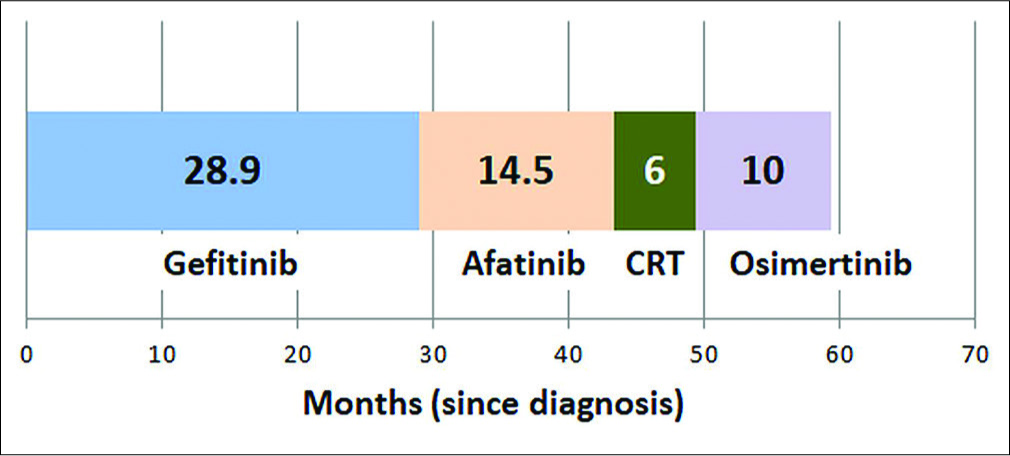 Such a situation is also applicable to other cancers, including breast cancer.[6,7] No wonder, the Indian Council for Medical Research guidelines on breast cancer clearly states that clinical utility of multigene signatures line MammaPrint and Oncotype Dx is uncertain because they are based on Caucasian population. Any test that has little data from the Indian patients is not ready for routine clinical use.[8] This is applicable irrespective from where the tissue or liquid biopsy is obtained from.[9]
To provide our patients with the benefit of such progress, we have to keep up to date with the evolving science and data. Moreover, medical oncologists seem to be ahead of the curve with more than half (63.5%) of all molecular testing being recommended by them, the rest coming from surgeons (15.3%), gynecologists (9.6%), patients themselves (6.2%), and general practitioners (2.6%).[10]
To disseminate this knowledge downstream, we have to understand the evolving terminology and the benefit of online resources.[11,12]
Let us take the example of hereditary breast cancer. We understand that risk is not straightforward Mendelian inheritance. While some germline variants disrupting gene function confer a high risk for cancer, many other variants (80–85%) have little or no clinical significance with respect to cancer risk. Earlier, we used to focus only on BrCa 1 and 2 genes. Now, we are wiser and have discovered several other high penetrance genes that confer risk of breast cancer (TP53, PTEN, PALB2, CHEK2, and ATM). Figure 2 shows the contribution of BrCa 1/2 genes versus others in three distinct ethnic groups. Table 1 shows the distribution of these mutations in a small cohort of these same ethnic groups studied in Singapore.[10]
| Mutation involving | Indian | Middle Eastern | Caucasian |
| --- | --- | --- | --- |
| BrCa1 | 5 | 3 | 9 |
| BrCa2 | 1 | 1 | 3 |
| TP53 and ATM | 3 | 0 | 0 |
| NEN and BR1P1 | 0 | 2 | 0 |
| CDH1 | 0 | 1 | 0 |
| Totalw | 9 | 7 | 12 |
When evaluating a risk of hereditary breast cancer, about 40% will have no mutation and the remaining will be equally divided amongst those having a known pathogenic mutation and those with a variation in the genetic sequence whose significance we are not sure of – the so-called variation of uncertain significance (VUS). Probands showing VUS might even have 2 (25%) or more (10%) such mutations. Moreover, the incidence of such VUS identification increases as better NGS methods are used or multigene panels become more extensive. Assigning the right certainty (either way – pathogenic or non-pathogenic) requires a careful correlation with clinical outcome IN THE SAME ETHNIC GROUP. Figure 3 shows the location of specific BrCa1 mutations amongst three ethnic groups, highlighting the differences.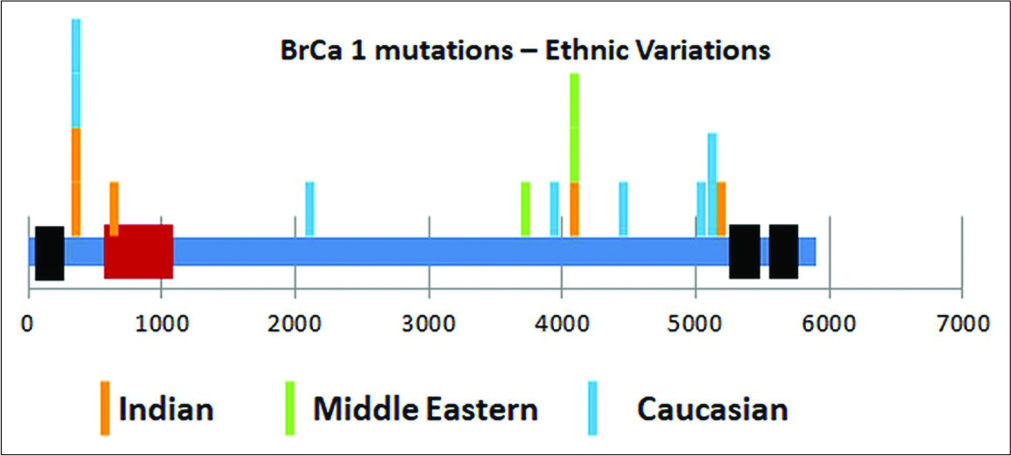 The same is the case when we use molecular testing, protein expression, immunohistochemistry, or other biomarkers for assigning risk, commonly called as predictors of outcome.[13,14] We, therefore, strongly urge all academically inclined oncology colleagues to join hands in pooling data from Indian patients and help make our own data more robust, reduce the redundance of VUS, and help patients be assigned to the right personalized cancer management pathway.
Declaration of patient consent
Patient's consent not required as there are no patients in this study.
Financial support and sponsorship
Nil.
Conflicts of interest
There are no conflicts of interest.
Show Sections